John "Johnny the Claw" Piantadosi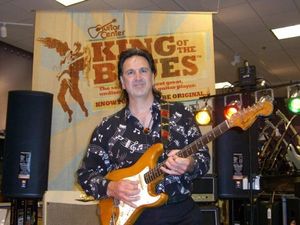 Guitar, Bass, Vocals                                                                                          
Born: New Jersey
Resides: Jacksonville, FL

Johnny "the Claw" Piantadosi is the 3rd of 4 musician brothers who were always surrounded by music. His earliest memories are of Dad jamming on the acoustic upright bass and Mom singing. Dad played at least four different instruments, was an accomplished bassist with the Garden State Philharmonic of New Jersey, and played out frequently in a jazz trio.

As a grade-schooler Johnny was invited to sing with an internationally touring boys choir, but that was just not the 'Claw's style.  It was a couple of years later when he discovered Rock and Roll.  Self-taught on guitar, he developed a style very similar to his bass playing style. Now, with his roots firmly planted in rock and blues, he began playing in bands up and down the Jersey Shore at the tender age of16.
John attended Berklee College of Music in Boston in the early 1980's, studying mostly bass as well as theory, harmony, arranging, and ear Training. His life then began sounding a bit like a country song when his girlfriend left him and then his VW Beetle was stolen on the last day of class, so he returned to Jersey to continue in the club scene and touring up and down the East Coast.

Touring with a band called Heartbreak led him to Jacksonville, FL where he continued his music career with several bands, began doing studio sessions, and started a family. It was here that he literally walked into the opportunity to become the worship leader for Calvary Anglican, the church he attended for the 14 years. Then, in 2013, John became music director/worship leader at Jacksonville Anglican Fellowship, more commonly known as "The Ship".

In 2007 Johnny earned the title "King of the Blues of Jacksonville".
Johnny experienced some challenging trials in his life, but the thing that remained was his 'claw-like' style of playing, his love of music, and his desire to keep relationships real.
Johnny and Ron Allen joined forces in 2013. Johnny serves as a music evangelist, worship leader, session musician, and driving force in the newly formed Duo and "The Master's Blues Band."